I like backpacks and I cannot lie ...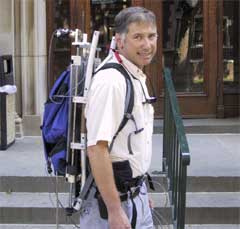 Dr. Octagon is back? After 10 years? Who knew. Anyway, here's a couple tracks from the upcoming and originally titled "The Return of Dr. Octagon." Keith must be hurting for cash. Produced by some team One Watt Sun and scratching courtesty of the Avalanches' DJ Dexta. I like "Ants" better.

Dr. Octagon - Trees
Dr. Octagon - Ants
So, People Under the Stairs have been releasing a steady stream of rap music since 1999 as far as I know, and they've been consistent with their sound. That sound, however, can be boring. But they always come correct on at least a few tracks. Cuts off the upcoming "Stepfather."

People Under the Stairs - Step In
People Under the Stairs - Jamboree Part 1
One time in New York I inadvertantly played accessory to the gaffling of PUTS' merchandise. I still feel bad. Also, when I had a radio show I think "Chollo Dad" must've been in the top ten requests of all time, easily.